The top three administrators at TISA collectively possess extensive educational leadership experience totaling more than 80 years. Their cumulative expertise and tenure in the field of education contribute significantly to the institution's comprehensive leadership, knowledge, community connections and resources. Building an institution that trains leaders takes leaders and that is what our administrators are – leaders who are devoted to giving their all to bring forth pillars that will help navigate our path forward using Prophetic Leadership. Sh. Dr. Yasir Qadhi (our esteemed Dean), Dr. Jimmy Jones (our respected VP) and Sr. Aliya Nehal (our valued Director of Operations) come together to lead TISA towards unprecedented success in serving the needs of our community.
The presence of 40% women faculty in team-taught classes at TISA significantly enhances our graduate-level educational experience, fostering a learning environment that is not only academically enriching but also reflects the diverse and dynamic nature of our thriving community. Faculty members such as Sh. Dr. Tamara Gray who brings her unique perspective on social justice and Islamic sciences, Dr. Rania Awaad with her expertise in Islam and psychology and Dr. Julie Lowe's mastery of Islamic Law significantly impact TISA's academic discourse offering students insights into contemporary issues with a traditional lens. We acknowledge the importance of different voices, backgrounds, and experiences in shaping a holistic understanding of the transformative subjects being taught.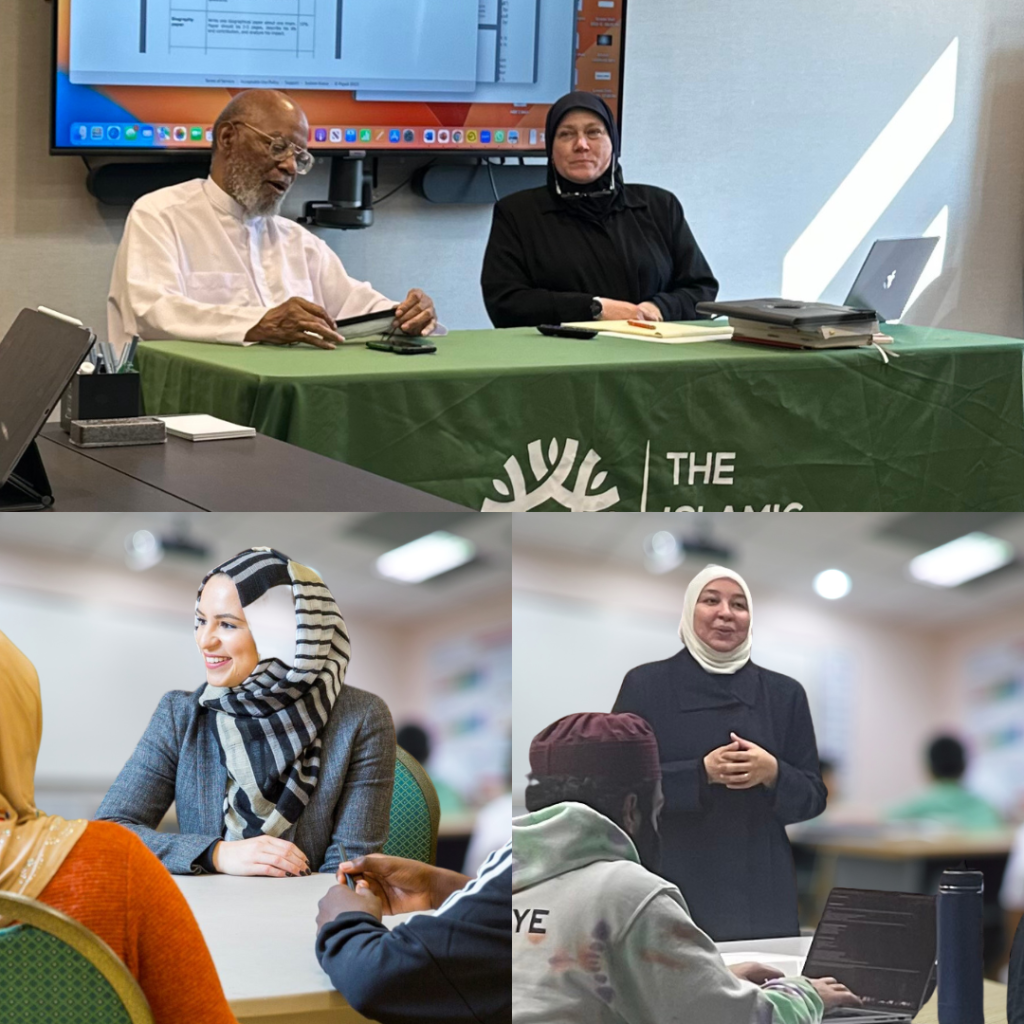 It comes as no surprise that our world-renowned faculty scores student ratings of 80% or higher in every course! With 52 courses taught to date by educators and scholars like Sh. Dr. Yasir Qadhi, Sh. Dr. Tamara Gray, Dr. Jimmy Jones, Dr. Julie Lowe, Dr. Jonathan AC Brown, and other brilliant minds on our faculty list, students are deeply engaged, inspired, shaped in thought leadership, and given a paradigm shift to address the extraordinary, contemporary challenges faced by their communities. Our faculty breaks the norms of standard professor-led lectures and creates a dynamic and intriguing class of discussions, coursework, and research that challenge our graduate-level students to think critically and deeply. 
At TISA our 10-course core curriculum has been intentionally curated by academic scholars with Western doctorates and traditional Islamic training. A compilation of sacred texts, scholarly books, critical analyses and research that dives deep into topics like theology, jurisprudence, history, spirituality, and more. Our curriculum cultivates a deep understanding of Islamic principles while nurturing critical thinking about modern challenges. We aim to produce compassionate leaders capable of bridging cultural divides and impacting their communities by embodying traditional practices of the Prophet (s) with their modern-day application.
Our master's graduates are required to memorize at least one Juz of the Quran with Tajweed. Their requirement to do so alludes to the significance of a leader's profound connection with the Quran. This bond shapes their approach to tackling contemporary issues and lays the foundation for developing a love and deep connection to the words of Allah SWT. Each letter of the Quran serves as a gateway to spiritual enlightenment, unraveling the wisdom inherent in the words of Allah SWT, and removes veils that draw them closer to Him. 
TISA's degree-seeking student enrollment has more than doubled since our inception in August 2019. This is a testament to TISA's graduate program which is intentional, comprehensive, theological, and spiritual and addresses contemporary challenges faced by the Muslim community today. A resounding doubling of students solidifies TISA's academic reputation and displays our accomplished students' recognition of the value TISA provides in their educational and professional goals. 
Qualified students can apply for financial aid year-round to eliminate financial barriers to higher education. At TISA we believe in the importance of equal access to our well-rounded and comprehensive graduate program regardless of a student's financial status and are deeply committed to ensuring that financial limitations do not hinder the pursuit of higher education. Our goal is to empower aspiring leaders to access a high-quality education without undue financial burden, enabling them to focus on their academic and personal growth. We are honored to collaborate with A Continuous Charity, offering interest-free educational loans (visit www.acceducate.org). 
The establishment of 10 tuition-free scholarships in collaboration with community partners is an important initiative at TISA. These scholarships are intended to support individual leaders in their educational pursuits and also to assist with the growth and development of the organizations we partner with. Investing in ambitious individuals in a community creates a domino effect whereby they can inspire others as well as take all they have learned back to their communities. These individuals then become visionary leaders who make meaningful contributions in partnership with their organizations. We believe that there is a strong connection between building leaders and thus by default, building the overall strength of Muslim institutions. .
TISA's highly anticipated peer-reviewed, interdisciplinary academic journal is published annually. This journal commits itself to promoting academic and professional research about recent developments in American Muslim communities. In doing so, the Journal aims to provide a platform for scholars, students, and researchers to exchange their latest findings from varied disciplines. Therefore, one of the key aims of the Journal is to foster dialogue between academics, researchers, community leaders, chaplains, and students regarding the Islamic faith and how it is practiced in America. To learn of its release subscribe to our newsletter.
TISA is proud to announce that its student body consists of highly accomplished individuals who bring with them varied academic experiences, degrees, professions, and knowledge. More than 40% of entering students are pioneers in their fields, already holding a master's degree or higher. The significant presence of such accomplished individuals within our student population elevates the academic discourse and represents a unique opportunity for networking, collaboration, and knowledge-sharing among like-minded peers. They challenge each other, inspire each other, and enrich the caliber of our academic community.